(Last Updated On: 11th October 2018)
Now that the financial year is over, my tax return has been filed and my taxes paid, it's time for analysis.
How was the 2015-2016 year for ICR Translations?
Have a quick look at the visual overview below and then I will share my general impressions.
WORDS TRANSLATED OR WRITTEN
Sworn and Legal Translation

55%

55%

Marketing and Tourism Translation

30%

30%

Content writing and other services

15%

15%
High-Impact Business Writing
Brush up your writing skills
Travel Bloggers Meeting
(Plasencia, Spain)
Business in Oxford
(Oxford, UK)
Oxford Launchpad, Oxford Entrepreneurs and Oxford Startups Mashup Networking Evening
(Oxford, UK)
World Travel Market
(London, UK)
I made some changes to Dosmilpalabrasaldia.com, my former blog, to improve the layout and the general design of the main page.
In June 2015 I launched a new Spanish blog on piggytraveller.com. Since then I've been writing on Piggy Traveller in English and Spanish for two different targets.
The English blog offers Extremadura travel inspiration for lovers of Spain, while the Spanish blog is dedicated to international travel, expat life and travel stories.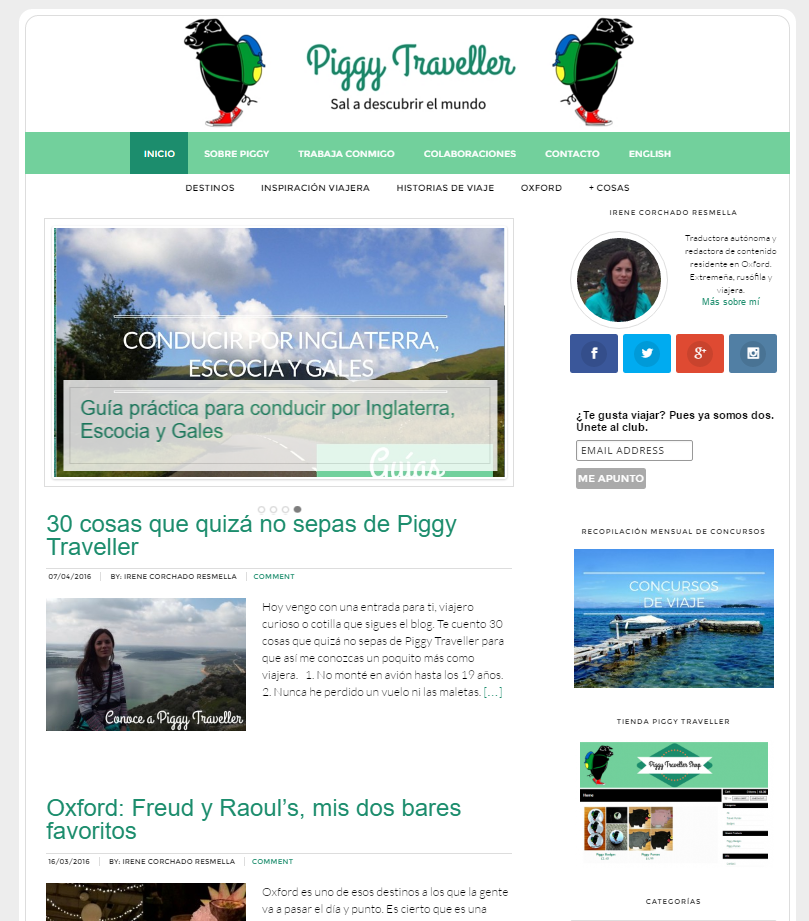 After working hard for nearly two months, the new ICR website was published on the 1st February 2016. The content from the former blog was transferred to ICR's Spanish blog and a new blog in English was created. Everything under one roof!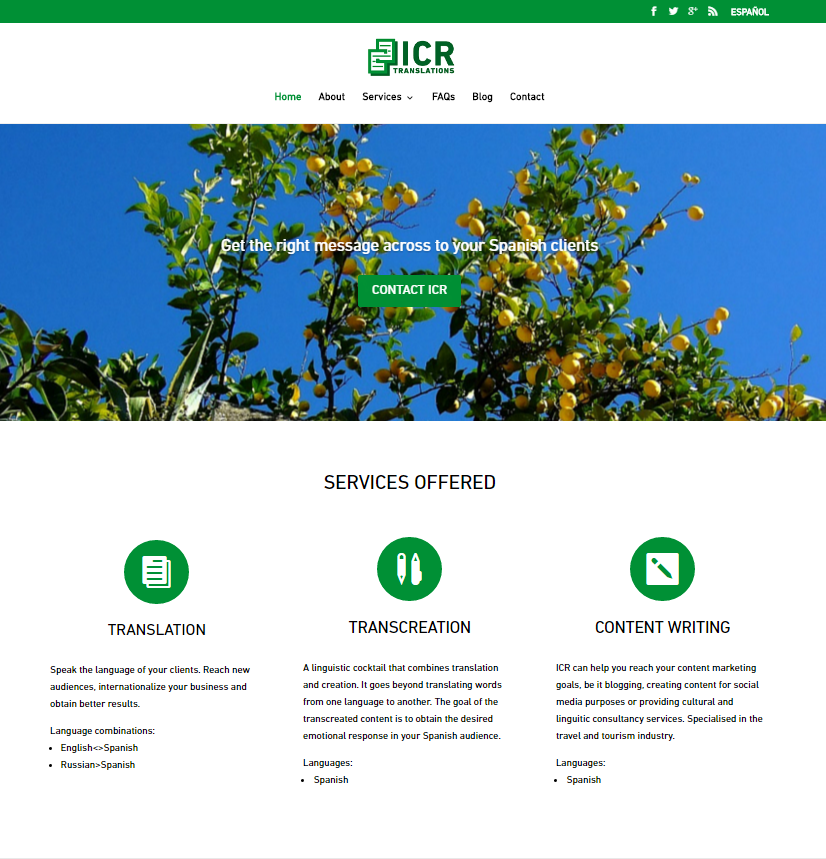 GENERAL IMPRESSIONS
Making progress
Bearing in mind that this was my second year as a full-time freelance translator (I took the leap in September 2014), I can't really complain. There have been excellent months, good months and decent months, but no worryingly bad months. It's true that the annual income has been modest, but work has increased steadily over the year, which is very positive.
My travel blogging activity started to get some attention from companies and won me some interesting travel writing projects, collaborations and contacts.
Realising I made good progress compared to the previous year has helped me start this new financial year with motivation.
Loving the freelance lifestyle
One of the main concerns I had when I started freelancing full-time was not liking working at home on my own, as I was used to work in an office and being part of a team. After 18 months I can say I really enjoy working in my little office and being my own boss, not to mention the freedom to take holidays when I need or want them. I was able to fit in a lot of travelling and I took more than 30 days off this year (excluding weekends and Bank holidays), which was great.
Things I did well
Waking up earlier. When I launched the Spanish travel blog I realised very soon I needed an extra hour a day to get work done and fit some blogging in the evening. I started waking up one hour earlier than I used to and I never looked back.
Organising my week. Google Calendar is my best ally. Everything I do is there-projects, social media activity, Skype meetings, blog posts and even my lunch breaks. It works very well for me and both the calendar and my work email are synchronised on my phone too.
Switching off. I don't go into my office outside working hours. Switching off my computer and closing the door allows me to switch off work and helps me chill out and go to bed with a work-free mind. Before, I used to leave my computer on all day and I found myself sending emails way past dinner time most days and having very little time for myself in the evenings. I spent too long in front of the computer and my eyes were often sore, so I knew I had to do something.
Things I didn't do so well
Getting out of the house. I spent way too much time at home. During the winter I struggled to find motivation to get out of the house, and this is something I want to change in the new financial year. I'd like to sign up to local activities and attend conferences, talks and other events on a more regular basis.
Exercising. I have to admit that, since I started freelancing full time, my physical activity has been close to none for a number of months. As a result, I started having neck and back pain and feel quite unfit. I started running in 2015, although I don't do it as regularly as I'd like to, mainly due to bad weather. However, I just started going to the gym, so now I feel I'm on the right track to a healthier lifestyle.
  © 2010-2017 – ICR-Translations.com. All rights reserved.
This was a general review of my year. How was yours? Leave a comment below.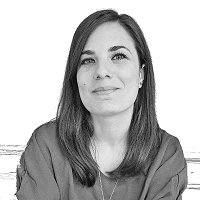 IRENE CORCHADO RESMELLA is a Spanish translator and content writer based in Oxford. A Spanish sworn translator and Chartered Linguist, she specialises in Legal, Marketing and Travel translation. Irene combines her linguistic skills with her knowledge of content marketing and a creative mind to help you get the right message across to your Spanish clients.
Blogger at Piggy Traveller and The Curiolancer.