(Last Updated On: 12th October 2018)
Another financial year is over. It is now time for analysing results, and setting new goals. Do you want to know how was the 2016-2017 year for ICR Translations?
As I did a year ago, I am sharing a visual overview and my general impressions below.
WORDS TRANSLATED OR WRITTEN
Sworn and Legal Translation

62%

62%

Marketing and Tourism Translation

18%

18%

Travel Content Writing and other services

19%

19%
Business in Oxford
(Oxford, UK)
Translation and Creative Industries Conference
(London, UK)
National Freelancers Day
(London, UK)
World Travel Market
(London, UK)
Oxford Literary Festival
(Oxford, UK)
Things that made me happy:
Work volume increased a whopping 59.70%.
Revenue went beyond the financial goal I set for the year. After last year's results, I set a new challenging, but realistic financial goal, which I reached at the beginning of January.
Work was way more stable. Thanks to regular direct clients and regular sworn translation projects, I did not have a single week without work.
My travel blog Piggy Traveller landed me several interesting projects:
 Fact-checking the Extremadura chapter and other sections of a Spain travel guide for a major publisher.
The authors of Wild Swimming Spain contacted me through my travel blog to write the Extremadura chapter for the book, which includes recommendations for wild swimming in the region.
I started seeing results from my blogging activity on ICR Translations and getting an increasing number of leads. This makes all the time spent writing worth it and satisfying.
Travelling. My travelling activity has been significantly reduced this year, mainly due to house works. I still managed to visit Dubrovnik, Dublin and Lisbon, though, apart from several trips to Scotland and Extremadura.
GENERAL THOUGHTS
This year has been quite challenging, from a personal point of view. My house was completely refurbished and, if you have been through something similar, you will know how stressful building works can be. We had to deal with a lot more than usual – budgets, builders, providers, daily issues to solve and daily decisions to make. All that while trying to focus on work. It meant living away for three months and moving back in before even having a kitchen or a fully tiled bathroom.
It also meant keeping expenses and holidays to a minimum, and spending the whole autumn-winter season in the UK can be quite hard for a stressed busy freelancer that needs a wee break abroad every 8 weeks.
The whole house situation has been a very tough experience, but I am happy I managed to get going and finish the year overachieving. Yet, I reached a critical point where I started to be overwhelmed and overloaded. I was spinning too many plates, and I had to drop something and focus. That is why I did not sign up for any CPD event or course until February (ongoing), and I decided to quit an interesting side project I had been collaborating on for over two years.
Although the number of clients went down from 70 to 57, the volume of work increased enormously, and has been stable throughout the year. That has been key to achieve the goal I set. Likewise, a few originally ad-hoc clients have become regulars, and an old client recently re-emerged after two years.
Overall, it has been a good year, and, even though there is still room for improvement, the numbers and results show I seem to be on the right track.
Things I did well:
Focus on work while under a lot of stress for most part of the year
Go beyond the financial goal set
Find some time every week for blogging
Things to improve:
Get out of the house more often
Spend less time on social media
Exercise more regularly
Dedicate time to keep improving my C languages
© 2010-2017 – ICR-Translations.com. All rights reserved.
How has the financial year been for you? Share your experience in the comments section below.
Don't forget to sign up to the newsletter to receive monthly updates with the latest articles by email.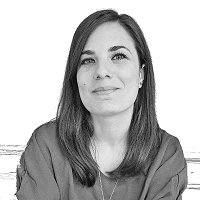 IRENE CORCHADO RESMELLA is a Spanish translator and content writer based in Oxford. A Spanish sworn translator and Chartered Linguist, she specialises in Legal, Marketing and Travel translation. Irene combines her linguistic skills with her knowledge of content marketing and a creative mind to help you get the right message across to your Spanish clients.
Blogger at Piggy Traveller and The Curiolancer.