(Last Updated On: 11th October 2018)
You are a translation professional working on your new (or first) website.
You've been working for two months writing the content. You've analysed the wording in every section, menu, header, call to action and button. You've also proofread the content and had someone else to review it.
Now it's time to look for pictures. Many people turn to stock pictures website. Why? Because they have good quality and cheap images. And that's also why you'll see the same pictures used over and over again on the web.
Surely you have spent some time doing research, or looking for agencies to collaborate with. And I'm sure you've seen that image with colourful speech bubbles in different languages on several sites. Can you remember the name of the last site with that picture you visited? Probably not. It was just 'one of those with a picture of speech bubbles'.
That is the exact reason why you shouldn't use them on your site. They are tired, clichéd, and unoriginal. To sell your professional services online, your website imagery needs to be original and stand out. Moreover, you are not allowed to use stock images in any logo or trademark. Stay out of stock images, if you can.
Choosing images for your website: translation-related images to avoid
A quick search in Google Images gives good examples of classic cheap-looking (and tired) images you should avoid. They usually include things like:
Speech bubbles with the word 'Hello' in different languages
Flags. Lots of them
A map of the world
A keyboard with a 'Translation' key
A globe (possibly with flags)
A pile of dictionaries
What to do instead
There are three alternatives to stock images. Your decision will depend on the number of pictures you need and your budget.
Use the services of a professional photographer or designer
This is what we would all do if money wasn't a problem. However, having a low budget doesn't mean you can't use professional services. If your site needs many pictures (slider, headers, several profile pictures), consider using just a few, at least for now. You can always book a longer photo shoot in future and add more pictures to the site. The most important ones are, in my opinion, the main image on your home page and a profile picture.
Take your own pictures
Let's be honest. Nothing looks better than professional pictures, but that doesn't mean you shouldn't take your own. If they are good, you will save money. If they are just decent, keep them on the site until you can afford professional services. That's still a better option than using stock images, I think.
Create images using online tools
Online tools like Canva help you create all sorts of images. There are many icons and illustrations you can use, and you can upload your own pictures too. It's quite time-consuming, though, but a good option for headers and featured images in blog posts, for example.
I created images for ICR's old website using icons I downloaded. Now I've decided to use my own pictures on the new website.
Things to consider when using your own pictures
Apart from taking good quality pictures, focus on making them personal and memorable.
Here are some tips you may want to try to achieve that:
Make them on brand
If you already have a logo, try to include your main colour (or one of them) into the pictures. Be careful not to overdo it.
Don't include a crowd or people outside your business in your images
If, like me, you are a sole trader, why would your picture show a group of people in a meeting room?
Take classic pictures, with a twist
I said that stock pictures with dictionaries are a no-no, but you can use your own if you make them personal.
How?
Select books you use for work and represent your services. For example, medicine, copywriting or history books, and display them in an original way.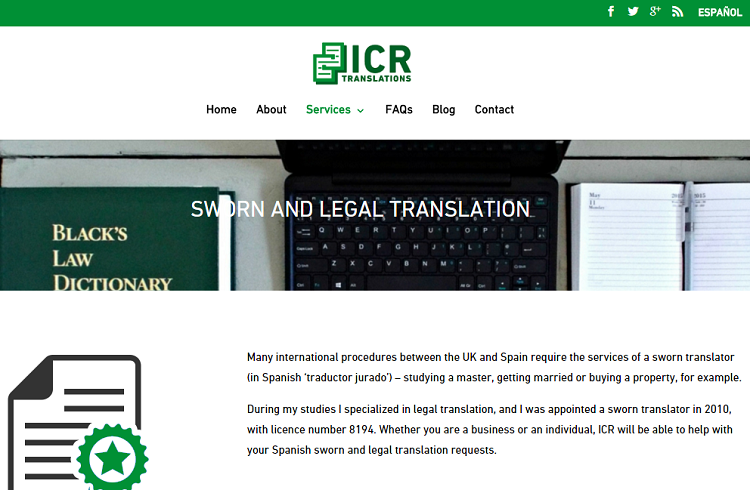 This applies also to office images. Many sites have pictures of laptops, desks and offices. Use your imagination to take similar pictures with your personal touch. A sticker on your laptop, a pile of your business cards on your desk, a personalised mug… You name it.
Use your location to your advantage
If you target a local market, consider displaying a picture taken in your city on your home page. A strong message and a call to action will do the rest of the job. Your clients will know what you do, where you are and how to contact you at a single glance.
However, be careful when selecting the location for the picture. Don't go for the most notorious building or monument, such as the Big Ben in London or the Eiffel Tower in Paris. Unless the picture is truly original, of course. Choose a place that represents and identifies the city without being too postcard-like.
Don't make it all about you
I would say that, as a general rule, you shouldn't use a picture of yourself as the main image on your home page. You are a translator, not a model, and you can look pretentious. But, you shouldn't hide from clients either and not include any picture of you at all. I, for example, have been quite reluctant to putting pictures of me on the web until recently.
The key is keeping a balance. Not too many pictures of you, but none either. I'd say include one picture on your About page and another one (or the same) on the Contact page. You are a sole trader, and your website should make it clear. And it's always good to know who exactly you get in contact with, don't you think?
Use non-translation related images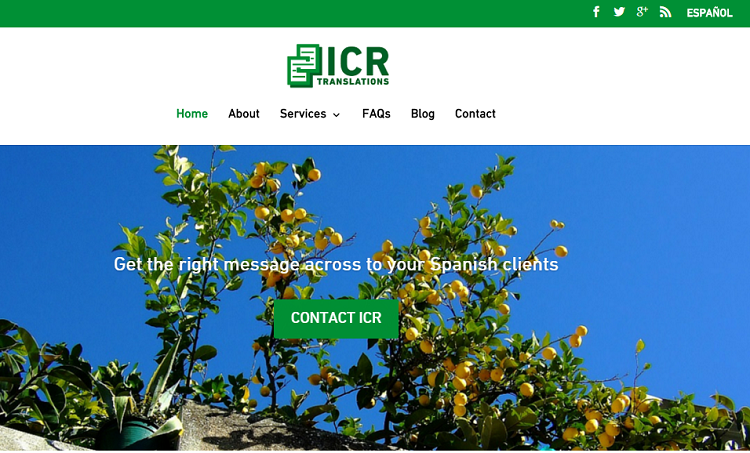 I went for this picture of lemon trees above for the home page. What do lemons have to do with translation? Nothing, but I think it works quite well for several reasons:
The green leaves are in line with the brand colours
It's bright and has a very Mediterranean feel. As I offer Spanish linguistic services, I wanted an image that makes you think of Spain in a non-obvious way.
It's quite unusual and easy to remember (it has the 'memorable' factor). Have you seen pictures of lemons in other Spanish translators' sites? There you go.
© ICR-Translations.com. All rights reserved.
Do you prefer using stock images or your own? Why? Which things do you take into consideration when choosing images for your website? Share your views!