(Last Updated On: 11th October 2018)
When outsourcing content writing one thing is clear–great content always starts with a great brief. For freelance writers, there's not as bad a client as the one who doesn't provide a brief, or provides a poor one.
Why?
Because a poor brief (or no brief) means poor communication, wasting time, and expectations not being met. The customer won't be satisfied with the result, and the writer will get frustrated by lacking essential information to do their job.
A brief:
provides all the information your writer needs in one single document
prevents time-consuming exchanges of emails between you and the content writer
can help you save money, as a writer will charge extra for major modifications to the text
Let me share a story that exemplifies the chaos poor briefing can create:
A company contacted me a while ago to write a Press Release in Spanish using some meta search data they pulled from analysing a website. They provided the data in a Word document and some explanations in an email. There was quite a lot of information missing (volume, data, angle, and context, etc.) that required a further exchange of five emails before the project was confirmed.
One day after the confirmation, the client sent another document with extra data and charts they wanted me to include in the PR, as well as more information and suggestions about specific things I could write about. After having a look at the data provided I found several inconsistencies I brought up to the client, who amended the data and sent a new document.
Three days after I delivered the PR I received an email with comments and feedback from the client. With writing assignments, you can always expect some minor modifications to be needed, but it turned out the client wanted something significantly different to what I delivered, which required re-writing about 60% of the text.
'We wrote a PR in French that worked well and wanted to have something similar in Spanish', they said. Well, why on earth didn't they say that at the beginning, then? Apparently, they didn't, because they didn't want to limit my creativity. A few hours afterwards I got another email. 'Oh, actually, I forgot to tell you we would like to include these links as well'.
By not telling me exactly what they wanted at the beginning, what I delivered didn't meet their expectations (although it fitted the requirements provided). The result–I had to work twice as long on that project and both me and the client wasted some precious 10 days in a project that would normally be delivered within 2-3 days.
Moral for clients: always provide a brief with as clear instructions as possible
Moral for freelance writers: never start working on a project without a formal brief
Many freelancers have questionnaires-like documents for clients to fill in at the start of a project, but it's not always the case. If you want to get your message across and make sure you get exactly what you want, it would be a good idea to create your own brief templates.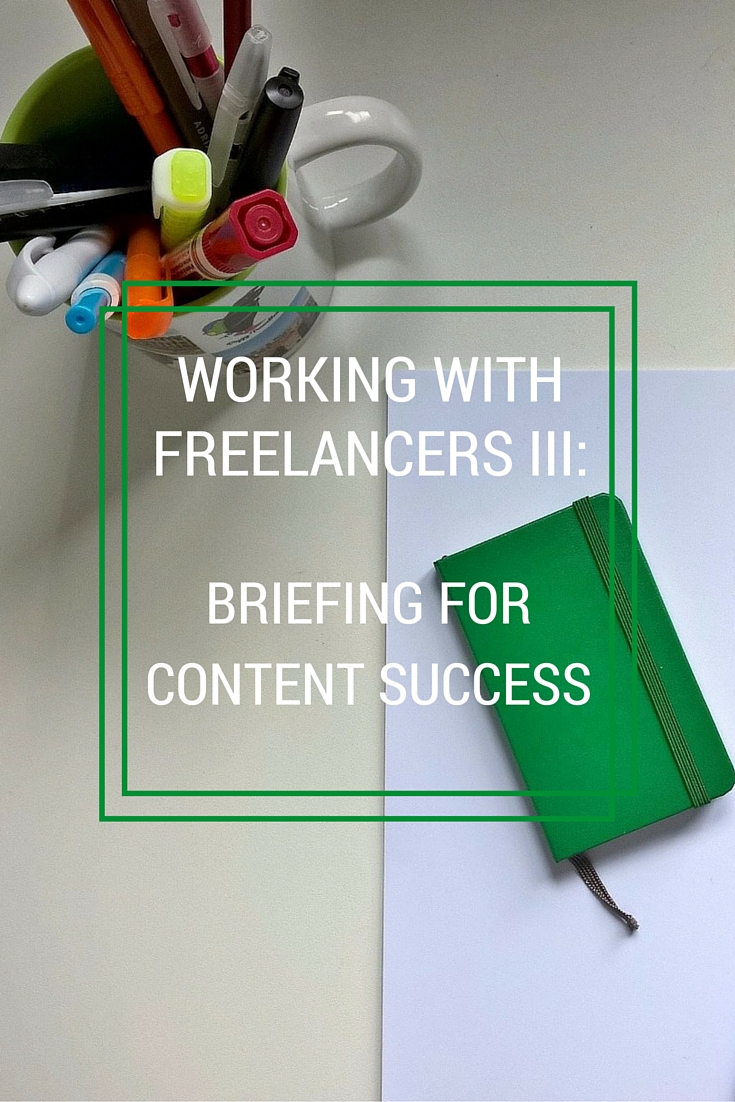 Creating your content brief template
Here are the key elements to always include in your brief for your freelance content writer:
Basic information
Start with the essentials: name of the project, project reference number, date, your name and contact details.
Company information
Freelance writers need to get a good grasp of your company values and capture your brand vision and goals to get your message across to the target readers. Include a short description of what your company does, what are your goals, who are your clients and the main message. It's a good idea to include links to your 'About us' page and any PR or articles published on the web that speaks about the company.
Project information
General description. Provide a short description about the topic and include a title as a reference.
Volume. How many words should the piece of content have? Give a rough estimate by providing a range. Example: the article should be between 800-900 words.
Placement. Where will the content appear? (company's blog or website, printed magazine or newspaper, a book, a third-party's website…)
Supporting information and links to useful resources. Do you have examples of similar texts written before for your company? Include the link. If not, do your bit of research on the topic and include links to any useful resource that can help the writer.
Process. Who should the main point of contact for the freelance writer? Who should receive the content? What type of revisions and how many of them is the freelance writer expected to do without charging extra? These are just some of the questions your brief should answer. Always provide a second person your freelance writer can contact when the main contact is away. Example: the article should be sent to Ms. Content Manager to [email protected] by X. The article will be reviewed and proofread in-house and sent back to Mr. Freelancer within 48 hours for final review before publication. All comments must be made using Microsoft Word Track Changes function.
Audience. Who is the content aimed at? Be as specific as possible: age range, sex, profession, location, goals, problems or worries… If you haven't yet, create your buyer personas and include the information in your briefing. Buyer personas are fictional characters that represent your ideal customers. If you're not sure where to start, have a read at how to create easy, yet actionable, content marketing personas.
Main message. What's the main idea you want to communicate? What is that single thing you want readers to remember after reading the content?
Goal. Think of what you want to achieve with that piece of content. Is it to inform, persuade, entertain? Are you looking to promote your company, boost sales, increase inbound traffic? Different goals need different approaches and different types of content.
Tone of voice and style. How do you want your brand to be perceived? Create a general and language-specific style guide to send to your content writers. There might be certain terminology you want to include or exclude in your content. Provide your house style guide or, at least, links to previous projects published, so your writer gets a good idea of what is expected to produce.
SEO. Share your company's rules for internal and external linking and anchor texts. Provide a link to your keyword research for that piece of content and any instructions to follow. Example: from the list of keywords, pick the one with the highest search volume and use it in the title, in the body (at least twice) and in the meta information (title, description, and main keyword). Choose up to three other keywords and use each at least once within the text.
Budget and payment. Include the rate agreed with your freelance writer and the terms and methods of payment, to avoid any misunderstandings.
Additional information and requirements
Format. Make sure your brief includes specific instructions about the content format, such as the type of document, typography, tables, colours, etc.
Pictures. Is the writer expected to source images to illustrate the content? If so, include which sources they can use and provide any login details to your company's premium iStock, Shutterstock or similar accounts (if any).
Here are three content writing/copywriting brief templates you can use as a reference to create your own. Drop and add things as you please to fit your company's needs.
Charity-Biscuits-Copywriting-Brief
Website-Content-Writing-Template
Do you outsource other services, apart from content writing? Download brief templates for other industries by clicking on the links below: