(Last Updated On: 13th November 2019)
If you've been following this 'Working with freelancers' blog series by now you'll have learnt how to set up a team of freelancers, how to manage a team of freelancers and how to brief content writers. Now it's time to know how you can maintain a good relationship with freelancers.
Any relationship requires a bit of effort from both parts to make it work and last, and this one is no different. If you don't want to be constantly on the look for replacements, do everything you can to build a great relationship with your collaborators.
These are, in my opinion, the three elements that either improve or ruin your professional relationship with freelancers:
Processes
Good, clear and easy-to-follow processes make everyone's life easier. If your freelancers notice you have no intention of improving the messy process you set up, they'll look for greener pastures sooner than later.
Communication
Good communication ensures things run smoothly and everybody is aware of what's next. Poor communication leads to misunderstandings, frustration and time being wasted.
Payments
Freelancers expect to be paid on time, in the same way you expect them to deliver on time. As obvious and straightforward this may be, invoices are lost or forgotten more often than not. Don't be one of them!
Focusing on the three elements mentioned above is essential for a good business relationship with your freelancers. Yet,
it's the little things that will make your company great to work with
. Every freelance professional likes to be valued and appreciated by their clients, so send your freelancers some love.
Here are some tips on how to maintain a good relationship with freelancers: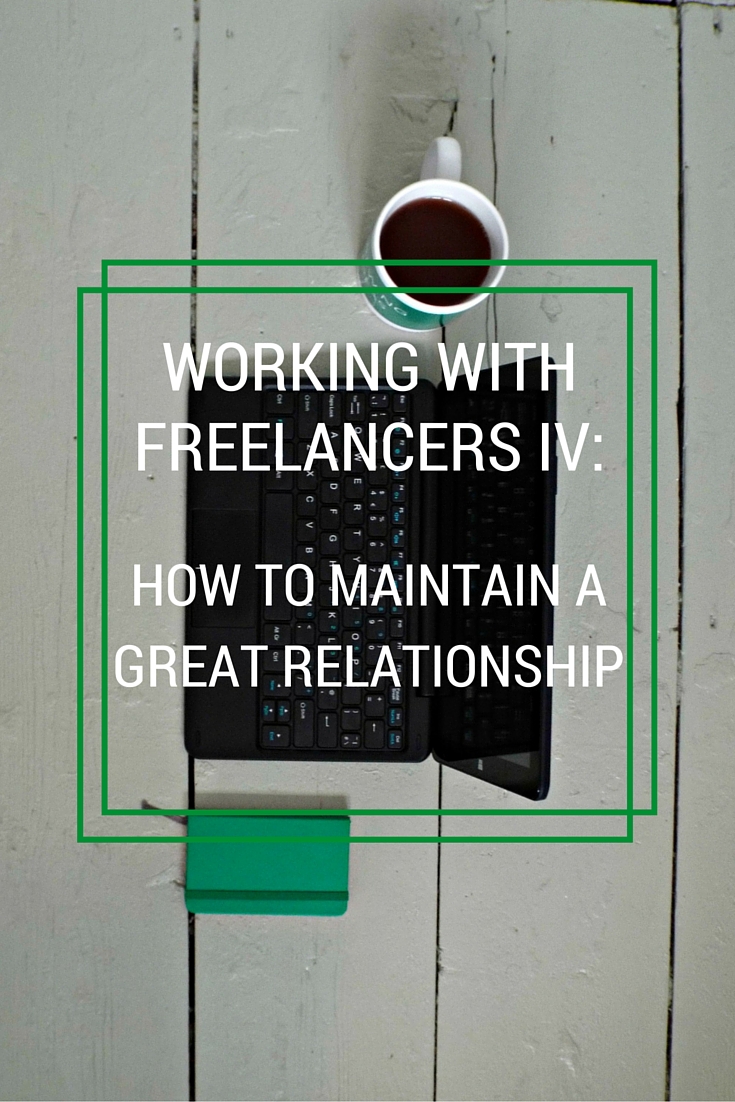 Hi,
We have a new request for you. Find the details below:
Task name: xx
Description: xx
Delivery date: xx
Please confirm you can take this on.
Thanks,
Be nice. Be human. Change your greeting and the end of your messages every now and then. Are you emailing your freelancers on a Monday? Ask about their weekend. Is it Friday you are writing to them? Wish them a good weekend.
I'm not saying you should tell them all about your weekend before you even say why you're emailing them. I'm saying a short 'by the way […]' sentence at the end of your emails won't hurt. What's more, it will be appreciated. Remember many freelancers spend most of the day at home and don't socialize as much as employees do.
Keep them informed and updated

Don't leave them hanging. Inform them in advance if you are going on holidays. Let them know who will be in charge and whether processes will change while you're away. If, by any reason, you no longer need their services, inform them in advance. As a freelancer, I find it rude when a regular client suddenly stops all communications and doesn't even explain why.
Trust them. There may be confidential information you can't share outside your business. That's fine, but try to make them aware of, at least, the general situation in the company. If things aren't going well and that huge project you promised won't happen, let them know. If you've been working with the same copywriters for years and you'll be leaving the company soon, let them know when you hand in your notice.
Acknowledge them

Credit their work. There's nothing worse for a freelance writer, translator or blogger than doing a good job, but not being able to include it in their portfolio. I do travel ghostwriting and have seen my articles published under someone else's name, on some of the biggest Spanish newspapers. Yes, I wrote those articles, but I can't prove it to prospect clients. How bad is that?
Whenever possible, credit your freelancers' work. Why don't you create a personal profile for your external writers on your blog? It's a win-win strategy for both. Shake the 'too corporate and anonymous' label off your blog. Be the company who works with the best bloggers in your field; the one who is transparent and shares who's behind the work. Another advantage is by crediting their work, the chances are your posts will be shared by the author. If they have many followers and are active in social media, you'll get extra traffic to your blog for free. On the contrary, nobody will share an article and say 'hey, I wrote that, by the way. They just didn't credit me'. Think about it.
Recommend them. Recommendations are the strongest proof a prospect has about a freelancer's work. Write a recommendation on your freelancer's LinkedIn profile if you've been working with them for long and are happy with their work. Or even if you've only worked with them a few times, but they went the extra mile on a project and saved your neck. It's a good way to appreciate their work.
Integrate them

Don't treat your freelancers as 'those guys I turn up to with urgent requests, but then I forget about'. Yes, they're not your employees, but they like working for you. They would have become 'always unavailable', otherwise. Integrate them in your team, make them feel they're part of the company.
Promote collaboration. Are you working with a team of 10 freelance translators? Put them in contact, allow them to speak to each other and interact. Set up a group call on Skype at the beginning of the project and make sure they know who they'll be working with. Use documents they can access simultaneously and where anyone can add comments or notes.
Platforms like Asana are great to track projects involving many people, improve collaboration, and cut the use of email. I've been using it for a while with one of my clients and I love how organised and efficient it is. You create a task, assign it to people and anyone can add comments, notes or attachments. Give it a try!
Ask for their opinion. Thinking about completely changing the process you're using to work with freelancers? Why don't you ask their opinion before making a decision? Use them to gather information. Find out what they like about the current process and what they think it could be improved. As they'll probably work with different clients, they may have interesting things to suggest you may not have thought about.
Reward them

Are your freelancers based nearby? Why don't you invite them to one of your corporate events? If your team of freelance collaborators is too big to afford that, there are still other ideas you can use. Many UK companies allow their employees to bring their kids into the office one day per year. Why not organising a 'Meet our Freelancers' day at your office? It will be a good opportunity for you and your colleagues to meet the external collaborators who do their bit to help your business grow. After that, you can also invite them to join your staff in the local pub on a Friday.
Complimentary gifts are a nice touch. A 'Thank You' or Christmas card, a book or a personalised mug will go a long way. You can also take advantage of your own product or service. Send them one of your goodie bags with merchandise or give them a discount or voucher for your services. They'll love it, and you'll have a happy collaborator spreading the word about your business.
© ICR-Translations.com. All rights reserved.
Are you working with external collaborators?

Share your tips for maintaining a good relationship with freelancers below!
Did you like the article? Sign up to the monthly newsletter, so you never miss a post.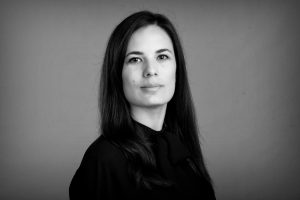 IRENE CORCHADO RESMELLA is a Spanish translator and content writer based in Edinburgh. A Spanish sworn translator and Chartered Linguist, she specialises in Legal, Marketing and Travel translation. Irene combines her linguistic skills with her knowledge of content marketing and a creative mind to help you get the right message across to your Spanish clients.
Blogger at Piggy Traveller and The Curiolancer.