(Last Updated On: 1st February 2022)
The Spanish sworn translation process might be a bit confusing for those who have never required those services before. What does it involve? Can any translator do it? What is legalisation? Can translators legalise documents?
To help you understand what you need to do when asked to submit your official documents in Spanish, here's an explanation of the process Spanish sworn translation process with ICR Translations.
Not just translation
The process has two steps and it requires:
Getting the original document legalised
Have the legalised document translated by a Spanish sworn translator
Legalisation
Legalisation is the process by which the UK government confirms the signature, stamp or seal on your document is genuine. This is required for your document to be valid abroad and it usually consists of attaching an Apostille Certificate to the document.
The Legalisation Office is the institution dealing with legalisations. Getting your document legalised is a fairly easy and affordable process. Go to the Legalisation Office website and simply follow the steps. Please bear in mind that it can take up to 10 working days to get your documents legalised.
If you find the process difficult or you need your documents legalised as a matter of urgency, contact a Notary Public or a firm of solicitors. As the Legalisation Office offers a premium service to registered businesses, they may be able to arrange a speedy legalisation for you.
The Spanish sworn translation process with ICR
Once you receive your documents back from legalisation, please email me scanned copies (including Apostilles) and confirm your preferred delivery method:
(a) hard copies sent by post, suitable for in-person submissions;
(b) digital translations (PDF) sent by email, suitable for online submissions only;
(c) both hard copies and digital sworn translations.
Tip: If you don't have a scanner at hand, there are several mobile apps, such as CamScanner that you can use. This mobile app is free to download and turns a picture taken with your phone into a good-quality document in PDF format. Please take one picture per page only on a flat, neutral surface. Make sure you read the terms of use and agree to their privacy policy before using the app.
I will then prepare and send a formal quotation, including my terms and conditions and the project confirmation process.
The image below sums up the process pretty well: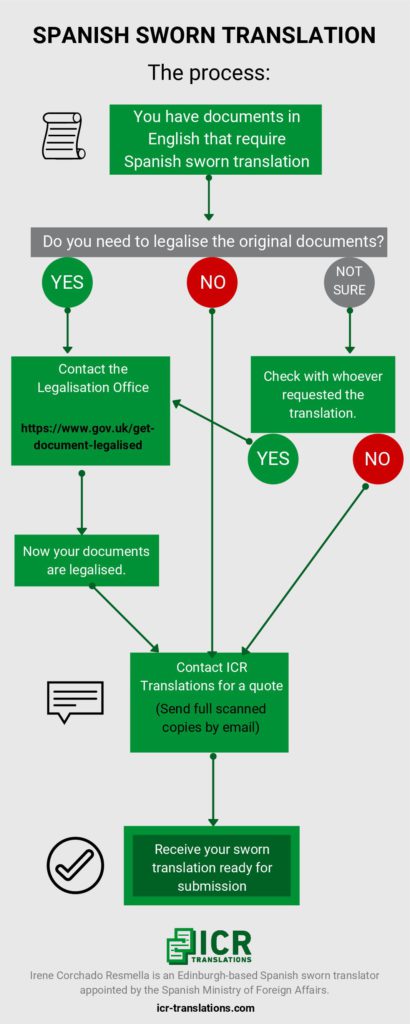 A few commonly asked questions answered below:
I do not have the documents at hand at the moment. Can you give me a quotation?
ICR can only quote after seeing your documents. Please send a scanned copy to receive a quotation. No quotations are given by phone. Read more about my 'no document, no quotation' policy.
Can I pop by your place to collect documents?
As a general rule, ICR does not accept collections in person. Hard copies are posted to the client using Royal Mail Special Delivery (Next Day Guaranteed). Digital sworn translations are delivered by email.
© ICR-Translations.com. All rights reserved.
DISCLAIMER
The information included in this article is correct at the time of publication/last update. This article is for informational purposes only, does not constitute legal advice and should not be relied upon as such. Any reliance you place on such information is strictly at your own risk. ICR Translations will not be liable for any loss or damage arising from loss of data or profits as a result of, or in connection with, the use of this website.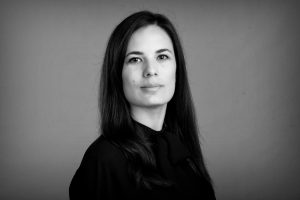 Irene Corchado Resmella, a Spanish translator based in Edinburgh. English-Spanish sworn translator appointed by the Spanish Ministry of Foreign Affairs, Chartered Linguist and member of the CIOL. As a legal translator, I focus on Private Client law, specialising in Wills and Succession across three jurisdictions (England & Wales, Spain, and Scotland). Affiliate member of STEP. ICR Translations is registered with the ICO and has professional indemnity insurance.